Accredited Manual Handling Trainer Course Level 3
Our manual handling assessor course is specifically designed for those who carry out manual handling risk assessments concerned with assisting people to move. It is delivered in a flexible manner to allow consideration of issues specific to participants work settings. The course will take into account different and specialist needs of the individuals that they work with, this includes people with limited capacity due to specific mental and/or physical conditions. This course can be delivered over 1 day for those with relevant pre existing experience of 2 days for staff who are new to risk assessment or have limited experience. 
Manual Handling Assessor Training Courses
The manual handling assessor courses that we provide are designed to give delegates the knowledge of Manual Handling Operations Regulations 1992, SI 2793. It will also give the delegate the knowledge of how to manage manual handling operations safely and how to conduct risk assessments to ensure the risk of injury to personnel is reduced.
Manual handling is one of the main causes of musculoskeletal disorders (MSD), which are the second most common occupational injury within the UK and make up nearly half of all work-related ill health seen by general practitioners (GPs) are MSD related. Prevention and control of work-related musculoskeletal disorders (MSD) is a major priority and published HSE provide a simple yet effective risk assessment method called the MAC tool. This provides risk identification of key manual handling risk factors so that these can be eliminated or managed in the most cost effective way.
At Abertay International Training Ltd, our course will equip you with the knowledge to help recognise, assess and reduce manual handling risks in your organisation. It's suited employers and employees representatives who intend to begin the process of manual handling risk assessment and control within their business. This will also benefit those who are already involved in manual handling risk reduction who need more formal or in-depth training in this subject, including training in the use of specific manual handling assessment tools.
We specialise in Train the Trainer Courses, this approved Manual Handling Trainer (Level 3) Award Course is for the moving and handling of objects We also provide another course called IOSH Patient Handling Trainers Course for moving and handling of people.  This Manual Handling Trainer Course is for all persons who wish to teach and assess the Manual Handling of Objects (If you require to do Patient Client Handling Training, please see our IOSH Patient Handling Trainers Course).  The Manual Handling Trainers Course is over 2 days costs only £375 which will include all trainer resources so that you start teaching without delay to include PowerPoint, Lesson Plans, Handouts and Assessment Forms etc.  The Manual Handling Instructors course will include the following:
Health and Safety at Work

Cost of Manual Handling Injuries

Accident Reporting

Safe Lifting of Objects

Manual Handling Trainer Theory Practice

Manual Handling Regulations

Back Injuries and Body Structure

Manual Handling Risk Assessment

Assessing Manual Handling Skills
 Successful candidates would then be able to teach the following:
Manual Handling of Objects

Manual Handling Risk Assessment
This course also include a free teaching award called PDLSG – Planning and Delivering Learning Sessions to Groups (SCQF Level 6) or equivalent, for which there is pre-course study required, for which we will send out the trainer manual and PowerPoint before you start the public course. This additional Trainers award will allow you to gain approval to teach accredited RQF/SCQF manual handling awards.
Would you like us to email you this Manual Handling Trainer Course information immediately to you, then click here or email you this Manual Handling Trainer Course information immediately then download it by click here
The course that we provide covers…
Principles of manual handling
Understanding injuries
Common types of injuries
Legal aspects
Key risk factors
Manual handling risk assessment (MAC and L23)
Pushing and pulling
Control and reduction of risk
Key principles of good handling techniques
Case studies
Why choose Abertay International Training Ltd?
At Abertay International Training Ltd over the years we've trained hundreds of manual handling risk assessment delegates on how to understand the positive benefits of risk assessments and how to conduct these assessments in their own organisation. The manual handling risk assessment course that we provide is ideal for managers, supervisors, instructors and training officers, safety professionals and delegates that have completed the Manual Handling Trainers course. This manual handling risk assessment course will test delegates' theoretical and practical knowledge of the syllabus, our courses cover across the UK.
We at Abertay hold many public Manual Handling Trainer courses England, Scotland, Wales, Northern Ireland and Ireland including London, Birmingham, Manchester, Newcastle, Exeter, Norwich, Glasgow, Aberdeen, Cardiff, Belfast and Dublin so just click on the see course dates button below, as well as this we can of course do in-house Manual Handling Trainer Courses at your venue for your group anywhere in the UK and Ireland or abroad on request.
To book online now, just click on the date of your choice and it will take you to the online booking system.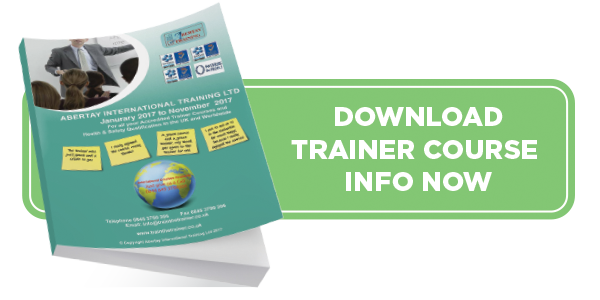 PLEASE NOTE: If you already have PTLLS or Education and Training Award – Level 3, then you are exempt from day 1 of the course the teaching unit, plus you get 20% off the cost!. Another great benefit of our courses, is after you complete the first train the trainer course you get 20% off all the other 2 or 3 day trainer courses you book.
You don't already have PTLLS?, or another level 3 teaching award?, then that's OK, another great advantage of our course is, you can qualify for the FASTTRACT 1 day top up after you complete the course, to gain the new PTLLS award, which is now called the Education and Training Award – Level 3. See the full details in our new Education and Training Award CLICK HERE
Abertay also produce Manual Handling PowerPoint slides for the trainer, have a manual handling book which is pending as well as supply Trainer Insurance. Are you already a Manual Handling Trainer then why not do your refresher course with us.