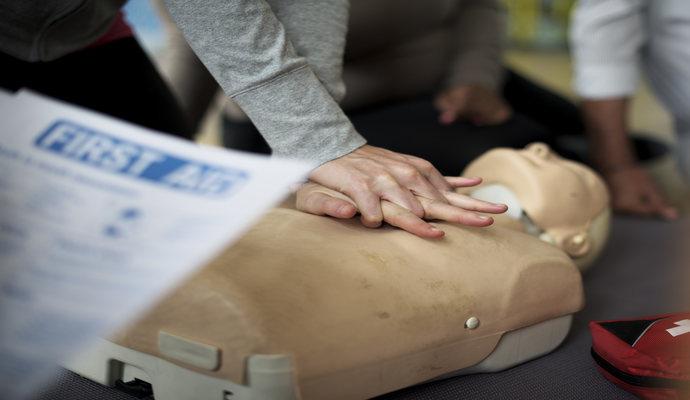 We give advice on jobs for first aid trainers like to initially qualify and then how to work as a freelance first aid trainer.
How to Qualify as a First Aid Trainer
Well simply your need 3 things as follows:
Number 1 – A current First Aid at Work Certificate – Yes you will require the 3 day first aid at work award. Even if you have taught first aid for 10 years the HSE guidance is that as soon as this expires, you can no longer teach or assess first aid awards until it has been renewed. There are a few companies out there doing online first aid courses or unaccredited first aid at work courses. Please take care with unaccredited courses as you will spend 3 days and money on a course which will be no good for you as unaccredited courses will not be accepted by awarding bodies in the UK, so therefore you will not be able to register to teach as they will not recognise the certification.
Number 2 – A Teaching / Assessing Award – You then need to prove you can are qualified to teach and assess the first aid awards.  There are various options for you as follows:
Teaching Award – If you have a Education and Training Award, PTTLS Teaching Award or PDLSG Teaching Award the awarding bodies in the UK will accept this for the teaching and assessing of first aid awards.  However they will need to see also experience.
First Aid Trainer Award – Again be very careful with this one, as no awarding body in the UK will accept a first aid trainers certification, unless it comes with a separate teaching award listed as above.  Some companies provide a combined first aid trainer with a teaching award so that you will need the awarding body requirements and will be qualified to teach first aid awards.
Assessor Awards – Assessor awards such as A1, V1, D32/D33 or the new TAQA Assessor Awards only allow you to assess first aid, so they will not allow you to or qualify you to teach any first aid awards.  Therefore you are best to go for the Teaching Award or
Assessor/IQA CPD Certification – If you already have a teaching award you can complete the First Aid Assessor / IQA CPD Award
Number 3 – Experience of Assessing First Aid
Yes even with the FAW and a Teaching award most awarding bodies will ask for experience in teaching and assessing first aid before you can register with them. The easiest option is to do the combined first aid trainer as with this on the course they have theory and practical teaching sessions to complete which fulfil the experience requirements of teaching and assessing first aid
Gaining Accredited First Aid Certification for the candidates you then teach.
Now that you are qualified you need to register with one of the awarding bodies in order to gain accredited first aid at work certification for the candidates you then teach and assess.  We use SafeCert Awards for example as they have lower running costs but there are many such as Pearsons, Qualsafe or City and Guilds etc.
So now you are qualified and have your training approved by one of the awarding bodies. What other things do i need.
Training Materials such as First Aid PowerPoint – You can purchase these or develop your own, but you will also get these free as part of any combined first aid trainer course.
Training Manuals – There are many places you can research such as Ebay, Amazon or Abertay etc. First Aid at Work or Emergency First Aid books are only a few pounds each.
Resus Manikins – You need 1 for every 4 persons in your class. These cost around 180 pound each, as you just need the Little Anne model and not full manikins that are too heavy to carry around and too expensive from St Johns Ambulance Online or SP Services. A tip for you if just starting off and need some time to build up your equipment first is to of book a venue such as at Leisure Centres who already have all the equipment so that you would be able to use the equipment when you are there.
AED Trainer Units – You need 1 for every 4 in your class. Again you can spend hundreds on equipment but you can also use training rooms at leisure centres or purchase the smaller training versions at around 40 pounds each on ebay.
Bandages – These are a pound or so each and are used again and again for practice so not expensive.
Advertise yourself
Once you have everything in place then it would be good to set up your website, join facebook and linkedin and start promoting yourself online and going around the larger companies in your area with some leaflets you can get designed from your local printers. You can also while you try to build up things contact other first aid training providers in your area